Exclusive World War I Exhibit at the Chappell Hill Museum
Into the Raging Storm: Texas and Washington County in the Great War
May 12-Nov 14, 2018
Experience the story of the fighting men and women of Washington County who left Central Texas for the war-torn trenches and battlefields of France in this World War I exhibit. They stood up to gas, artillery, disease, and even bad food… and returned to Texas to tell the tale. The Brenham Heritage Museum and the Chappell Hill Historical Society Museum have partnered to bring this multi-media and interactive experience to Texans young and old.
---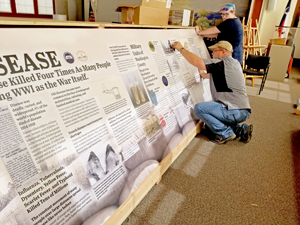 This exhibit takes an alternate look at the War that was supposed to end all wars from the perspective of its influence on the local community. Perhaps more than any other event in local history, World War I changed Washington County's culture forever.
Through exhibit text presented in the form of newspaper front pages, explore the issues that led the United States to join the War on the side of Britain and France. Follow along to learn about the experience that local young men had as they enlisted or were drafted, their training, travels and experiences taking the journey of a lifetime to France and the Western Front.
Artifacts demonstrate aspects of their daily life, from food and coffee, to physical hygiene, to the awful conditions imposed by trench warfare.
Other aspects of the exhibit explore the home front, and how the federal government shaped society with propaganda to build support for the war, and promote conservation of food and resources.
Anti-German sentiments cut keenly in Washington County, with its mix of German, Polish, Anglo, and Black communities. Pro-war propaganda only encouraged supremacist groups like the Ku Klux Klan to turn their violent forms of suppression on the local German and Polish residents of the county. On that front, sentiments did not settle down until 1923.
The gem of this exhibit is the Kay-Lesser Map. This map is hand-drawn, and measures 12 feet wide by 18 feet tall. Cartographer John Kay most likely finished this map mid-1918, based on which battles are included, and which are not. He once created maps in the United Kingdom, but in the 1890s, he left the UK and settled in Austin, where his daughter attended college at UT. She became a teacher here in Chappell Hill, and married into the Lesser family, who owned a local general store. When her mother passed away, John moved to  Chappell Hill, and his map was stored in the rafters of the store since the 1930s. Now it is on display for the world to see the precision and grace of this map maker's work.
Visit the exhibit during regular Museum hours or call us to arrange for a group tour.
Chappell Hill Historical Society Museum
9220 Poplar St  •  Chappell Hill, Tx 77426
979-836-6033
---