Visit Chappell Hill on the 4th of July!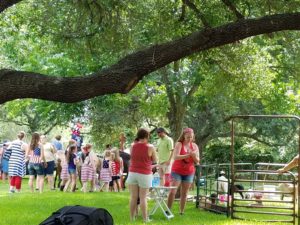 Celebrate our country's independence in the heart of Washington County – Chappell Hill! Our parade kicks off at 10am down Main Street with the world famous Marching Kazoo Band. Over 50 floats and entries follow for a magnificent parade celebrating our Texas heritage and American pride.
After the parade, visit with your friends and neighbors and enjoy traditional and folk music on the Museum lawn while the kids enjoy free pony rides and a petting zoo!
The Museum will be open so be sure to visit our newest exhibit commemorating the 100th anniversary of  World War I.  The Front Porch band will be playing for us on the front lawn, with tunes from various groups that settled around Washington County. Inside our beautiful stage will be the Shimmer Flute Choir – we will be performing Bluebonnets, the Texas State Flower Song written here in Chappell Hill, along with a number of patriotic tunes by George M. Cohan and other composers of the early 20th century.